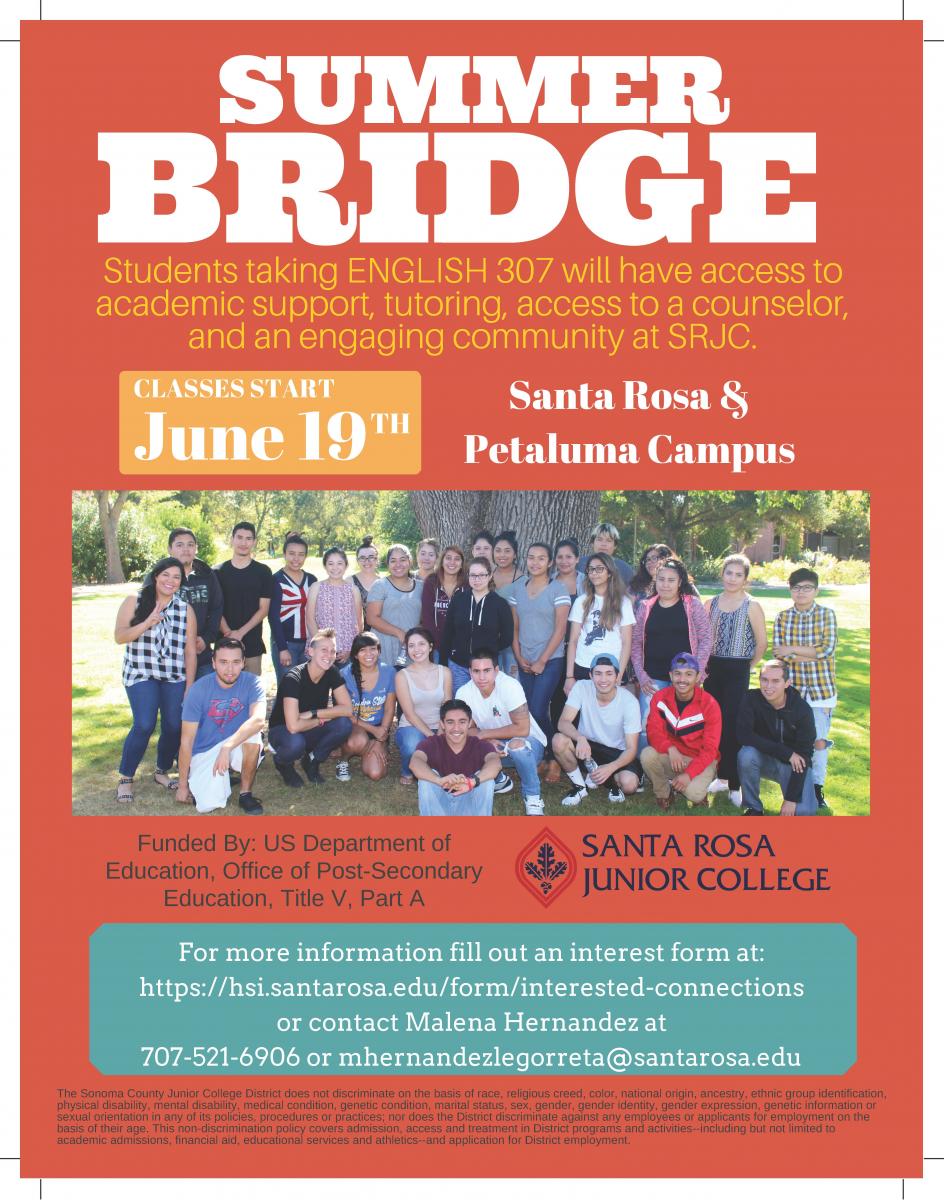 WHAT'S the Summer bridge program? 
SRJC's Hispanic Serving Institution Summer Bridge Program is an academic program designed to provide an introduction & orientation to college to Hispanic and  low-income students. The program provides a supportive environment for students to improve their writing skills through an accelerated English 307 class.
WHY CHOOSE THE SUMMER BRIDGE PROGRAM? 
The Summer Bridge Program will provide a jump start to students' college education in preparation for the fall semester. With dedicated and remarkable English instructors, the Summer Bridge program will support the development of students' academic, intellectual and civic citizenship.
activities (Summer 2017): 
The Summer Bridge program includes enrichment activities for the purpose of developing students' life skills, social engagement and campus involvement that will help them be successful in college. During the summer 2016, students partook in the following activities:
Academic Counseling with a guided pathway
Orientation of student services;

Tutorial center
Financial Aid
EOPS
Student Health & Psychological Services
Student Clubs.
MI CASA (Multicultural Center)

​Introduction to Community Engagement

Participation in Healdsburg city council meetings

Volunteering at Redwood Empire Food Bank

"Right to a Roof" march
HSI'S ELEMENTS TO STUDENT SUCCESS:
-       Connected: Students feel like they are part of the college community
-       Directed: Students have a goal and know how to achieve it
-       Engaged: Students actively participate in class and extra-curricular activities
-       Focused: Students stay on track keeping their eye on the prize.
-       Nurture: Students feel someone wants and helps them to succeed.
-       Valued: Students' skills, talents, abilities and experiences are recognized; they have opportunities to contribute on campus and feel their contribution are appreciated it.