Avanzando Provides two STEM Learning Community Opportunities for Students 
The Avanzando HSI-STEM initiative is designed to support academic achievement among Latinx, low-income, and first-generation college students pursuing health science and science, technology, engineering, and math (STEM) degrees, certificates, and transfer. The Avanzando STEM Learning Community pathways focus on student retention and success in high-demand rigorous courses in math, chemistry, biology, physics, engineering, computer science, and related classes.
While the Avanzando HSI-STEM initiative is geared toward a target student population of Hispanic, low-income, first-generation college students, any student with an interest in a health science or STEM fields is welcome to join a STEM Learning Community. 
As an SRJC student, Avanzando provides two STEM Learning Community Options. 
For students ready for Pre-Calculus and English 1A
Enroll in Avanzando's first-year STEM Learning Community that links Math, English, Counseling and Chemistry classes that establish your foundation for future STEM transfer courses. You'll receive priority 2 registration the following semester to help ensure you can take the STEM classes in your educational plan and take an important step in finding your STEM community at SRJC.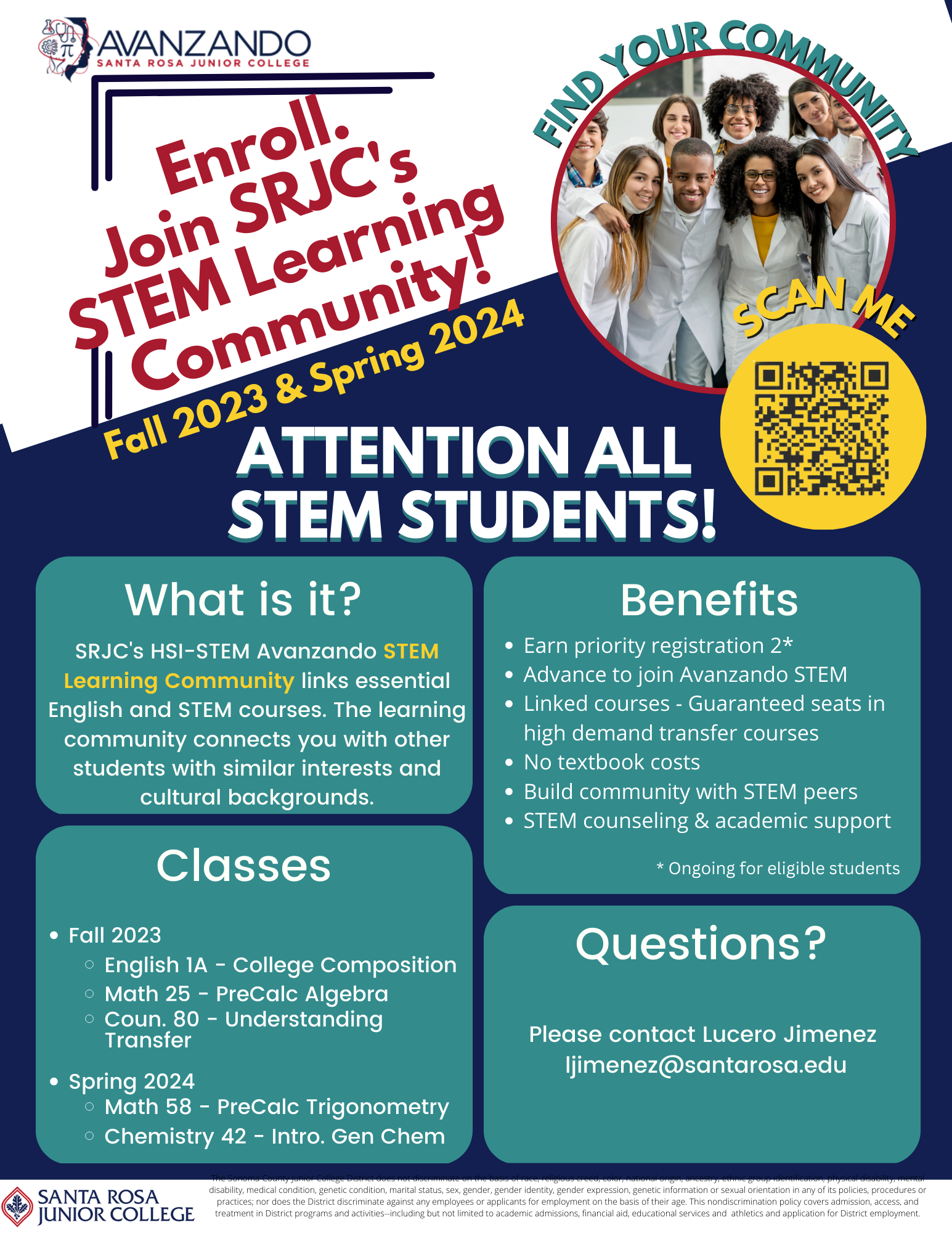 For students ready for Calculus and General Chemistry
Enroll in Avanzando STEM "Directed" Learning Community.  This STEM Learning Community builds upon your peer network and provides greater flexibility to select STEM classes specific to your transfer goals.  The courses in this community are aligned to help you see how math and sciences integrate for STEM students.  The courses are not linked, and you'll have opportunities to earn priority 2 registration.